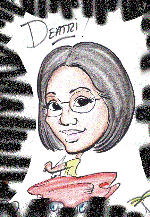 Deatri King-Bey began in the publishing industry in 2001 as an editor for Third World Press Inc., the oldest African-American owned publishing company in the country. Though she supported the non-fiction and literary mission of Third World Press Inc., she found commercial fiction more to her liking. On the fiction side of developmental editing, she freelanced for several publishing houses over the years and has edited for authors such as L. A. Banks, Beverly Jenkins and a host of others. Deatri is also a women's fiction and romance author. In 2008, her title Whisper Something Sweet won the Emma Award for Best Steamy Romance of the Year. Deatri also writes dangerously sexy suspense with Curtis L. Alcutt under the pseudonym L. L. Reaper. Their first installment of the Black Widow and the Sandman series is available in book stores everywhere.
Deatri is currently the Chair of the Romance Slam Jam Organization, the place for readers and authors of Black romance to meet, is writing, editing, conducting workshops and whatever else she can get into.
On a personal note, Deatri fell in love with and married her hero while they were in the military together. She also graduated Magna Cum Laude from Chicago State University and raised three fantastic daughters who have given her three fantastic grandchildren. Currently, she lives in Phoenix, Arizona with her husband of twenty-seven years.
---
Become A Successful Author is used in the "How To Write That Novel" course at Chicago State because it covers everything from branding to writing to editing to formatting and uploading electronic and print books to marketing and so much more. Your time is money. Look at all the time, thus money, you'll save by ending your search for answers: Purchase Become A Successful Author (eBook) for only $4.99 from: Amazon (US), Amazon (UK), Barnes & Noble  or print copies for only $9.99.