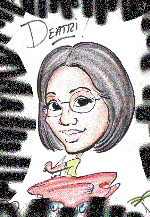 I remember the first novel I wrote. I had been an avid reader for years and just knew the book I wrote would take historical romance to a whole new level. After I completed the novel, I sent it to the person who would become my biggest fan—my mom—for her opinion. Now don't laugh, I know you are thinking you NEVER send your manuscript to family and friends if you want an honest critique, but I was new to the game, didn't know anyone and my mom, who happens to be an avid reader, will tell me if something I do sucks. She'll just say it in a nice way. So she read the book and said the plot was very good and so was the setting, but there was something wrong with the flow that she couldn't pinpoint. This would be my first lesson in the difference between a great storyteller and a writer. I needed to learn the craft so my stories would translate to written word without driving my readers crazy.
I've been reading a lot of self-published books lately and have come across some great storytellers, but something is wrong with the flow of some of these works. These authors are having the same issue I had with my first novel—they have no concept of point of view outside of first, second and third person.
Allow me to apologize now. Point of view (POV) is not an exciting subject, but it is a concept you MUST master. Point of view can become complicated, and there are many "correct" and "incorrect" ways to utilize its concepts, so I'll give you the basics.
The part of POV that most authors understand is first, second, or third person. This aspect of POV is used in the narrative between the dialogue. Most authors stick with first or third person throughout the manuscript. I have never read a manuscript that uses both, but I'm told they are out there.
First Person speaks from the I perspective. First person is as close to the narrator that you can get because the narrator is the one telling the story—I couldn't believe his dog was loose again.
Second Person speaks from the you perspective. I like to call this the "author intrusion" point of view because the narrator is speaking directly to you—You know how it angers you when people allow their dogs to run the streets. Second person is often used in business and nonfiction writing. I'm using it right now in hopes you feel you  are being spoken to directly. I'm about to act like second person doesn't exists in fiction. It does and I want you to be aware of it, but I'll spend my word count on the two POVs you'll use most, first and third.
Third person speaks from the he/she perspective. Third person gives you distance between the narrator and the characters. In third person the narrator can possess characters and tell you what they think, sense, feel…—He couldn't believe that jerk let his dog out of the yard again.
Whew, that was easy, wasn't it? Now comes the aspect of POV many new to the game don't know about. The perspective character(s). Who is telling this scene, this chapter, this story? There are a few ways to portray perspective in your story, but we will stick with the main two used in fiction—limited and unlimited.
Limited POV
In limited POV, the narrator tells the story from the perspective of one of the characters of a scene, chapter or the entire novel. This character is known as the perspective character. The narrator may be the perspective character, thus will use first person (I) during the narration, or the narrator may possess the perspective character, thus will use third person (he/she) in the narration.
As the narrator for the perspective character, you know everything the perspective character knows, thinks, hears, sees… Sounds easy enough, huh? Let's say your perspective character—Jane in this case— is looking out the window watching the sun set and someone walks into the room. Jane hasn't had a visitor in years and didn't expect to have visitors anytime soon. What can you tell us about the person who came into the room? Remember, Jane is facing the window. I'm serious. Take a few seconds to answer before you continue reading.
Lately, I've come across several books that have the perspective character narrating things they shouldn't be able to. It's like they have eyes behind their head and read minds. In limited POV, if the perspective character can't see it, taste it, hear it, feel it, think it, know it… then you can't narrate it. Let's put Jane back at the window. Dick could walk into the room, but since Jane's back is turned to the door, she can't see who came in. I can't tell you how many times I've read a book that was supposed to be in limited POV tell me what was happening behind a the perspective character's back or even in a different location all together. For example if Jane were on the phone, the narrator then says what is happening on Dick's end of the line. When Jane's back is to the door, don't say: Dick walked into the room. Use senses that Jane can actually use and the narrator can tap into.
Jane can hear footsteps approach. Does she recognize whose steps they are? Is this person so quiet she doesn't hear them approach, but smells their cologne? Does the person come into the room and clear his throat?
Let me give another example of this type of POV slip (error). Let's say Jane (who is still our perspective character) is looking out the window, and she knows Dick is sitting on the couch waiting for her reply on something. As the narrator, can I say: Dick drew his gun a pointed it at Jane's back? Not if you want to do limited POV correctly. Instead, you can have Jane see him draw the gun in the reflection of the window. Or if he fires the shot, she can hear the bang and feel searing pain rip through her back.
Let's try this again. Our perspective character, Jane, is at the window and hears someone approach. She's shocked because she hasn't had visitors in years, and she's startled because who would walk into her home uninvited. She spins around and sees Dick. What can you tell us about Dick? Go ahead answer.
Outside of their history, information Jane knows about him and his physical appearance, nothing that I can think of at this time (Yeah, I put that qualifier in there. SMILE). I've come upon several books that were supposed to be written in limited POV that tell me what characters other than my perspective character are thinking. For example, Jane turns and sees Dick. Dick hadn't seen Jane in years and still held animosity toward her. Does Jane read minds? How would she know this? Jane can look at his stance, his facial features and can try to read his emotions and say what she THINKS is on his mind, but she can't tell us what is actually going through his mind.
To explain perspective character further, I'll move Jane and Dick to the kitchen for coffee and to catch up with each other. Jane is still our perspective character. She pours coffee into each of their cups. Dick picks up his cup. What can you tell us about Dick's perseption of the coffee? Can I say: Dick picked up the mug, and it burned him? (I hope you wouldn't say this anyway because it's telling and not showing, but that's a different exercise.) Yes, you can say it, but it would be a slip in POV, an error. SMILE. Jane is the perspective character and can not feel for Dick. She can interpret his reactions to picking up the coffee. He may jerk his hand back. He may turn up his nose to the smell…
Time to pick on Jane one more gin (as my grandmother would say).This time we'll touch on something controversial where point of view is concerned. Jane is our perspective character. What can you tell us about her physical features. For example, could I say, Jane combed her long, dark hair. Or if writing in first person could I say: I combed my long, dark hair.
This is where the controversy comes in and is difficult to articulate. Many editors believe perspective characters should not describe their physical features because you write the narration as if you are the character (first person) or you have possessed that character (third person), and when you comb your hair you wouldn't think of your hair as long and dark. Or if you were tall, you wouldn't think I'm six foot three. Instead, you should sneak in these elements. For example: Jane stared at her reflection in the mirror and drew her fingers through her long, dark hair, thinking it was time for a dye job and cut. See the difference? There is a reason she'd take note of her hair.
Personally, I think you should try not to have your perspective character describe themselves. Figure out ways to sneak in their physical characteristics.
Unlimited POV
In unlimited POV, you can have more than one perspective character per scene, chapter and/or novel. Unlimited POV is more difficult to master than limited POV, but the form most new authors attempt to write in. When writing in unlimited point of view, you're not limited to Dick or Jane's perspective. You can tell everything from both of their perspectives. Well, that's not quite true.
To move from one character's perspective to another is called a shift in perspective. If you continually shift from one character to another and back and forth and every which way, this is called head hopping. That was the problem with my first book. I was telling all of the characters' thoughts and just about every action in every room, even if the characters were in different rooms speaking to each other. Well, maybe not that bad, but you get the  picture. I see this a lot in self-published books.
So how many characters' perspectives can you display in unlimited POV during a scene, chapter or novel? There is no magic number, which is why this perspective is so difficult to master. It's not cut and dry. I think of it like this, each time you shift perspective, the flow of the novel is shaken. If you have too many "shakes" close to each other, you'll give your novel "shaken novel syndrome." Do not shake your baby (novel).
Many traditionally-published romance novels are written using unlimited POV. When the author shifts from one perspective to another, it's a smooth transition. For example a sex scene may start out from the male's perspective, then shift to the female's perspective. I wish I could tell you exactly when, where and how many times is acceptable to shift, but I don't have those answers. I can give you a few pointers when writing in unlimited POV:
Read traditionally published books that are written in unlimited POV and study the authors' techniques. I know traditionally published books are not perfect, but like it or not, their overall quality is higher than self-published books and when learning, it's best to go to the best available.
Decide what POV you will be writing in and stick to it. For example, if you've been able to write the first three chapters of your manuscript using limited POV, don't write in unlimited POV for chapter four, then go back to writing in limited POV. And yes, I have seen this happen in a few books.

There are exceptions to this. Limited and Unlimited have different feels to them. So let's say you are writing a fantasy where there are two realms that are completely different. To further display these differences, when your characters are in one realm, you may use unlimited POV, when in another you may use limited POV. Wait until you fully understand both forms before mixing and matching. Let's say you are doing a murder mystery. You may do the scenes from the murder's perspective in limited POV and scenes from the investigative team in unlimited.

Set the tone for which POV you are using early in the novel. I read a novel the other week that was in unlimited POV for the first two chapters, then switched to limited for the rest of the novel. This was a mistake. I was like, why didn't the author just go back and rewrite the first two chapters in limited?
Don't take unlimited literally. No head hopping. Switch perspective characters only when needed.  There is RARELY an occasion where you MUST tell only one or two lines from someone else's perspective. I'm serious. I'll be reading a chapter that has been in limited POV the entire time, then switch to unlimited for two lines to tell you what another character was thinking, then switch back. This is a POV slip (error).
Information Overload
I don't want to overwhelm you, so I'll stop here. I hope I was able to give you enough of a glimpse into POV to get you started. Now you have homework. In the future when you read novels, pay attention to the different aspects of POV.
I've read a few books that focus on point of view, and most of them gave me a headache. There is more than one way to execute point of view (did you catch the double entendre), so I say learn the basics and then expand your wings. If you come across helpful books or articles regarding point of view, please come back and list them in this thread for others.
Happy Writing,
If you found this post useful, please use the Share links to spread the word to other authors.
ANNOUNCEMENT: I'll be conducting a FREE eBook formatting workshop for people who are signed up for my monthly newsletter. Topic: eBook Formatting Basics for Fiction Titles Cost: Free Date: March, 24, 2012 Time: 3-4 p.m. Central Location: Become A Successful Author Website (link and password will be given the day before the event)
---
Don't have a copy of Become A Successful Author? What are you waiting for? Become A Successful Author will be used in the "How To Write That Novel" course at Chicago State because it covers everything from branding to writing to editing to formatting and uploading electronic and print books to marketing and so much more. Your time is money. Look at all the time, thus money, you'll save by ending your search for answers: Purchase Become A Successful Author (eBook) for only $4.99 from: Amazon (US), Amazon (UK), Barnes & Noble  or print copies for only $7.99 by using the Contact page of this website and tell Dee know how many copies you'd like and shipping address. She'll email the ordering information. Or you can purchase the print version from any book store for $9.99.