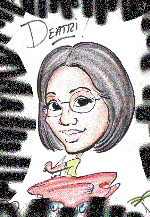 Though I'm an author, I always try to view my actions in social media type groups from the perspective of a reader. To ensure I'm not allowing my author status to taint my view, I often ask readers for their opinion/habits on items. Last month I took it to the people (readers) and asked several questions I believe authors need to hear the answers to. My sample came from reading groups of romance, multicultural-romance, urban lit, chick lit, sci-fi, fantasy, mainstream fiction and general reading groups from social media sites such as Yahoo groups, Facebook, MySpace, Kindleboards…
Instead of placing all of the replies in this post, I will give you the strong themes I saw repeated in the replies of each question. I also asked if the respondents were authors and/or aspiring authors and threw out those responses if they were.
I started off easy:  For those of you who own an iPad, where do you purchase the majority of your eBooks?
Only 32 people answered this question. All of them said Amazon and quite a few purchase their eBooks from Amazon and Barnes & Noble. Only two said they also purchase from the iBookstore.
Next came the tough questions:
What behaviors in groups (ie: Yahoo groups, Facebook) do authors have that turn you off from purchasing their book(s).  There were two common themes that just about all of the respondents had. I've picked two reader responses that capture the essence of the 200+ replies. (Note: I have done a little proofing of the replies and edited out group names.)
Turn-offs for me are when authors constantly post a link to their books saying "Buy my book" and pressure me to buy their books if I haven't purchased them yet. So I'm supposed to buy your book because you've flooded my group with your cover and buy link? How about announcing your book once, then posting something more interesting like an interview or a review at later dates? I stress "a review" because I get tired of authors coming in with every review they get, and I also get tired of authors begging for reviews. I've had to leave many groups because they've been taken over by author promotions.
When authors network with your group "until" you purchase their book, and then afterwards they hardly have time to even say "hello."
Here are additional strong sentiments from readers I polled. Again, I'll pick a few of the responses that capture the essence of the reader's feelings:
I hate it when an author adds me to groups and their email lists without my permission. I hate, hate, hate, hate this! Did I say I hate this?
Things that turn me off from purchasing an author's book is when you are a fan of that particular author and you give them a compliment or a shout out on a book they've written. You take the time to buy the book, read it, rate it and express to them how much you love their work, and they basically ignore you. I'm not saying they need to bend over backwards or anything or you should be some kind of stalker, but just an expression of gratitude that someone is actually paying their money to support you in your endeavors to spin your craft would be nice.
Authors who have absolutely no clue what the group is about. I belong to a Nook reading group. We all own Nooks and Nook is in the name of the group. So why do authors post Amazon links to Kindle books that aren't available on Nook? Because the authors don't care, they just push their books.
Drive by promoters. Authors who ask to be my friend, then instead of even asking how my day was, they start posting "like my page," or "buy my book," all over my feed. I also don't like it when authors join groups and the first thing I see from them is "buy my book." That's all they have to say. How about joining the conversation? How about getting to know us and letting us get to know you?
I'm in a group where I swear every comment this particular author has goes back to her book. I'm serious, it's like every email is somehow related to her book.
I gave an author a negative review because I didn't like her book. She was in one of the groups I belong to complaining about my review and how she'd gotten 25 great reviews and mine was the only negative one, so I must not know what I'm talking about. I don't think she realized I was in the group and the one who wrote the review. I was so angry. A few others jumped into the conversation, but I remained quiet and decided not to purchase this author's books again. I would have given the author a second chance, but not after this.
What motivates you to click an author's purchase link? (Note: I only received around 50 responses to this question.) Here are two responses that capture the essence of the responses.
I've belonged to a group on Yahoo for three years now, and there are certain authors who actually participate in conversations, give and take. It's about more than their book. I usually buy these authors' books.
What motivates me to buy an author's book is feedback, reviews, reading the synopsis and reading the samples. Also if they're a new author overall promotion (friendly in groups) will help in making me more willing to give them a try.
Let's say you read a novel. Now what about the novel makes you not want to read another book by this author?
Over 100 answered this and almost all of them said poor editing. I'm an editor so followed up with many of the respondents and asked what they meant by editing. The majority of them said the manuscript needed to be proof read. Many of them said the plots had holes or inconsistencies and such.
There were a few responses such as the back cover blurb didn't match the book, but otherwise, the readers said they just didn't like the author's style.
What do you think about free and $ 0.99 eBooks? I received mixed reviews on this question. Of the 77 who answered, here are the replies that captured the main themes.
I like the cheap books to get to know an author. I find a lot of them are poorly edited. I've noticed a lot of free eBooks on Amazon lately that aren't too bad. Much better than the $0.99 eBooks.
I will not purchase another $ 0.99 eBook or download a free eBook unless I know the author. I can't stand another poorly edited book.
I'm sure none of the responses were a surprise, and this was by no means a scientific study, but many times we (authors) get so in the promote-promote-promote mode that we don't realize we are turning off our readers. Learn from what's been said by the readers.
Please help your fellow authors by sharing posts you find helpful.
---
Don't have a copy of Become A Successful Author? What are you waiting for? Become A Successful Author will be used in the "How To Write That Novel" course at Chicago State because it covers everything from branding to writing to editing to formatting and uploading electronic and print books to marketing and so much more. Your time is money. Look at all the time, thus money, you'll save by ending your search for answers: Purchase Become A Successful Author (eBook) for only $4.99 from: Amazon (US), Amazon (UK), Barnes & Noble  or print copies for only $7.99 by using the Contact page of this website and tell Dee know how many copies you'd like and shipping address. She'll email the ordering information.