I'd like to thank those who graciously agreed to be regular guest bloggers here at Become A Successful Author. Each is willing to share his or her experiences and knowledge of the industry to help you become a successful author, and I am truly grateful.
---

Iris Bolling: In an effort to combine the areas in her life she enjoys the most, education, politics and romance, Iris penned her first manuscript, Once You've Touched the Heart. Since that time she has released four additional novels known as The Heart Series. Iris won the 2010 Emma Award for Debut Author the Year and her novel, Once You've Touched the Heart was voted the Readers Choice Award at Shades of Romance Magazine for, Romance Book of the Year. Her novel A Lost Heart was nominated for the 2011 Emma for Best Romantic Suspense Novel of the Year.
View Iris's Posts: http://www.becomeasuccessfulauthor.com/tag/iris-bolling/
For more information please visit; http://www.irisbolling.net/ or http://www.sirient.com/.
---

J'son M. Lee, though born in Brooklyn, NY, is essentially a North Carolinian.  He graduated from the University of North Carolina at Chapel Hill earning a degree in Speech Communication with a concentration in Performance Studies.  Lee is is the President and Owner of Sweet Georgia Press, a small publishing and editing firm located in Baltimore, MD.  He is the author of Just Tryin' To Be Loved, the "Friends or Lovers" short story series (Best Friends, More Than Friends and Can't Be Friends),  love One (short story), One Family's AIDS (short story) and co-authored the multiple award-winning book, How could my husband be GAY?, with Ondrea L. Davis.
For more information about the author, please visit his website at http://www.jmccoylee.com/ or http://www.sweetgeorgiapress.com/.
---
Kisha Green is no stranger to the literary world. She is the well-informed, knowledgeable publisher of DivaBooksInc.(www.divabooksinconline.com). Green is a senior writer and founder of the Writer's Vibe (www.writers-vibe.com) a literary site to help promote artists.
---

Lynel Washington is a native of New Orleans, Louisiana. She began her career path as a Human Services Counselor, but is now a freelance editor and virtual assistant. Devoted to literary enrichment, she enjoys reading many genres. She is an enthusiastic editor who pays close attention to details and thrives on creativity. Lynel has always enjoyed a love for the written word. It is this love of reading that directed her to the field of editing. Now, her career is passionately based on doing what she loves most.
View Lynel's posts: http://www.becomeasuccessfulauthor.com/tag/lynel-washington/
Visit Lynel Online: http://www.LynelJohnsonWashington.com/
---

Lynn Emery: Mix knowledge of Louisiana politics and forensic social work, with the dedication to write fiction while working each day as a clinical social worker, and you get a snapshot of author Lynn Emery.
She sold her first novel in 1995 to Kensington publishing for their groundbreaking Arabesque line. NIGHT MAGIC went on to be recognized for Excellence in Romance Fiction for 1995 by Romantic Times Magazine. Her third novel, AFTER ALL, became a movie produced by BET and aired on December 3, 1999. Holly Robinson Peete stars as Michelle Toussaint, an investigative television reporter. In 2004 Lynn won three coveted Emma Awards. She was chosen Author of the Year and her novel KISS LONLEY GOODBYE won Best Novel and Favorite Hero. GOOD WOMAN BLUES was nominated for the Romantic Times Best Mainstream Multicultural of 2005. 
Visit Lynn Online: http://www.lynnemery.com/
---

Renee Daniel Flagler is a marketing professional, an award-winning freelance journalist and the author of three novels, Miss-Guided, Mountain High Valley Low and In Her Mind. Renee currently pens a relationship column for XI Magazine and is the founder of SheBiz.net a lifestyle blog for women pursuing their passions. Flagler resides in New York and is currently at work on her next novels, Raging Blue, Still Raging and Like it's My Last. Connect with Renee on Facebook, Twitter or online at http://www.reneedanielflagler.com/.
---

Rob Shelsky is an eclectic writer. He has two anthologies of dark science fiction, Where Worlds Collide I, and Where Worlds Collide II. The author has several novels to his credit, Verity, a Regency Suspense Romance, the sequel, Fallibility, and Lost Echoes, a time-travel novel. Dark Dreams Of Love is a paranormal romance anthology. He also has a young-adult fantasy, Simon Simple & The Dark Tower. The author has written articles for such magazines as The Internet Review of Science Fiction, AlienSkin, Neometropolis, Midnight Street, Doorways, and other publications. A member of the Science Fiction Writers of America (SFWA), Rob also has had about 50 short stories published. He has a novella due out in late 2011, Avenger Of The People, as well as a factual book on UFOs. One of Rob's favorite pastimes is to sit in his garden with a glass of Merlot and contemplate new story ideas.
View Rob's posts: http://www.becomeasuccessfulauthor.com/tag/rob-shelsky/ Visit Rob online:  http://robshelsky.blogspot.com/
---

Shelia M Goss is the national best-selling author of over thirteen books including:  Ruthless (Dec. 2011), Delilah, Savannah's Curse, Hollywood Deception, His Invisible Wife, My Invisible Husband, Roses are thorns, Paige's Web, Double Platinum and four young adult books: The Lip Gloss Chronicles series: The Ultimate Test, Splitsville, Paper Thin and Secrets Untold.View Shelia's post: http://www.becomeasuccessfulauthor.com/tag/shelia-goss/ Visit Shelia online http://www.sheliagoss.com/ or http://www.thelipglosschronicles.com/.
---

Stacy-Deanne (Dee-Anne) is an award-winning novelist of crime, mysteries and interracial romance. She is known as "Interracial Romance's First Lady of Crime and Mystery." She's been writing professionally since 19-years-old, and her work includes "Divas of the New Millennium," "Everlasting," "Melody" and "Giving up the Ghost." Stacy is profiled along with notable authors in the NAACP-nominated 2006 book, "Literary Divas: The Top 100+ African-American Women in Writing." She is a 2011 African-American Literary Award Show nominee.
View Stacy-Deanne's Posts: http://www.becomeasuccessfulauthor.com/tag/stacy-deanne/
Visit Stacy-Deanne online; http://www.stacy-deanne.net
---

TaNisha Webb is a book club consultant and the author of The Ultimate Book Club Experience: How to Create & Maintain a Successful Book Club. TaNisha is the Publisher and Editor-in-Chief of Book Club 101 Magazine and founder of Book Club 101 University. TaNisha is also the CEO of Literary-ly Speaking Events & Services LLC.
---

Trice Hickman, a self-proclaimed Southern girl,  is an award winning, bestselling author of contemporary fiction books. Trice's love of reading and the power she recognized in the written word led her to become a writer. After being turned down by every agent and publisher she submitted her work to, Trice was determined to make her voice heard. She self-published her first three novels to great success, and then landed a multi-book deal with Kensington (Dafina Books). In her spare time Trice enjoys cooking, reading, decorating, and traveling. To learn more about Trice and her work, visit her website at www.tricehickman.com.
---

W. Terry Whalin understands both sides of the editorial desk. A former literary agent, Terry is an acquisitions editor at Morgan James Publishing. He has written more than 60 books for traditional publishers including Jumpstart Your Publishing Dreams and several of Terry's books have sold over 100,000 copies.  He has authored an innovative training for writers, Write A Book Proposal. Terry is an active member of the American Society of Journalists and Authors.
View Terry's Posts: http://www.becomeasuccessfulauthor.com/tag/w-terry-whalin/
---
Last but not least, your blog host.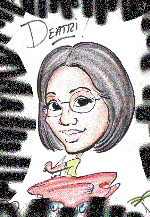 Deatri King-Bey began in the publishing industry in 2001 as an editor for Third World Press Inc., the oldest African-American owned publishing company in the country. Though she supported the non-fiction and literary mission of Third World Press Inc., she found commercial fiction more to her liking. On the fiction side of developmental editing, she freelanced for several publishing houses 0ver the years and has edited for authors such as L. A. Banks, Beverly Jenkins and a host of others. Deatri is also a women's fiction and romance author. In 2008, her title Whisper Something Sweet won the Emma Award for Best Steamy Romance of the Year. Deatri also writes dangerously sexy suspense with Curtis L. Alcutt under the pseudonym L. L. Reaper. Deatri is currently the Chair of the Romance Slam Jam Organization.
Deatri's posts: http://www.becomeasuccessfulauthor.com/tag/deatri/
---
Become A Successful Author is used in the "How To Write That Novel" course at Chicago State because it covers everything from branding to writing to editing to formatting and uploading electronic and print books to marketing and so much more. Your time is money. Look at all the time, thus money, you'll save by ending your search for answers: Purchase Become A Successful Author (eBook) for only $4.99 from: Amazon (US), Amazon (UK), Barnes & Noble  or print copies for only $9.99.