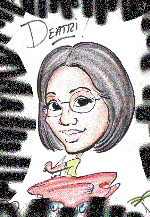 Outside of writing a downright excellent book, two keys to expanding your loyal reader base are mingling with your current readers and being introduced to potential new readers. Back in the day, authors would go on tours to bookstores, conferences, reader events… to accomplish both of these tasks. Thanks to the electronic age, authors have additional options to accomplish this goal. One of my favorite ways is the virtual tour.
In essence, virtual tours work the same way as traditional tours, except your stops are online. You may visit blogs, participate in chats and online conferences, organize a sale with other authors… Anything to expose you to readers via the web.
So you want to do a virtual tour. The first thing you need to decide is if you will pay a service to organize the tour and/or organize it yourself. Whether you hire a service and/or organize the tour yourself, you'll still have to write the blog posts, participate in the chats and such.
Paid Virtual Tour Appearances
Personally, I'm against paying a service to organize virtual tours, but what works for me may not work for you. Find what works for you and go for it. Here are a few advantages of paying a service to organize your virtual tour:
Many authors are shy and/or don't know who or how to ask to make an appearance on someone's site (a stop on the tour). The service does this for you.
The service sets up the appearance dates (stops).
Often times stops also include a review
The stops are varied. For example a reader who likes to blog about books is different than an author who has guest authors visit, is different than a website that caters to readers….
Again, just because paying for a virtual tour is not my cup of tea, doesn't mean you shouldn't indulge. If you are interested in paid virtual tour appearances:
Be sure to look at the virtual tour company's clients. Do they write your genre? Will this company have the connections to get your book in front of readers in your genre?

Don't pay companies to expose you to ANY reader. You want to be exposed to readers who actually enjoy your genre. For example, if you write horror, ensure the service is setting you up to visit virtual locations that specialize in horror. Not romance. Not historicals. You want to get the most bang for your buck, so you need to be where the most people who read your genre will be.
Many companies will not tell you the places they will be booking you until after you've paid (Understandable. They don't want you to organize the tour on your own).  No problem. Ask the company exactly how many of the stops they are planning for you focus mainly on your genre. If it isn't at least 70% of the stops, then I say skip this company. Don't get me wrong. There are sites out there that attract a wide array of different types of readers. Those are great places for the other 30% of the tour.

Be sure to look at the virtual tour company's current clients' sells. Hop on over to Amazon and see how are they doing. Are they getting their monies worth?
Be sure to look at the current clients' appearance schedules. Do these locations specialize in your genre?
Some virtual tour companies own numerous blogs/social media type locations for virtual tour stops. There is no problem with this, but be sure to ask the service how many of the stops they are planning for you are in locations they maintain. This number should be low.

One of the great things about virtual tours is the exposure to new readers you get from the host announcing your appearance. So if you are appearing on platforms maintained by the virtual tour company, then they are announcing the appearances to the same audience.
Setting Up Your Own Virtual Tour
The first time you set up a virtual tour for your genre, it's a pain in the butt. The good thing is, once you get your research, you can adjust and reuse it for future tours.
If you don't have a blog, why not. Get one started and host virtual tours. I know it's all about you, but by having authors from your genre visit your blog, they are bringing new readers to visit you just as you are introducing your readers to them. Cross promotion is your friend. Check out Bling: Can You Pimp My Website for starts. Creating a blog is optional, but I highly suggest it.
Here comes the hard part. Research blogs, websites, online conferences, chat opportunities in your genre. I'm addicted to reading and regularly visit numerous blogs and websites to see what's new and meet new authors (new to me). In my ventures, I take note of the main genre(s) hosted on the sites. Another way to locate sites in your genre is to do a Google search. You can list authors in your genre and find their websites. If they host guest appearances, take note. You can go to Amazon and search for authors in your genre, then look at their web pages to see if they have guest appearances. Some websites contain a list of links to other websites. Start clicking and find those sites. The more contacts you have, the better.
A month or two (two is better) before you are ready to start your tour, contact the people on your list and ask to do a guest posts or be interviewed. Nothing complicated. I use:
Email Subject: Virtual Tour Stop Request
Hello All,
My upcoming GENRE OF BOOK, TITLE OF BOOK, is due for release GIVE A GENERAL TIME IE: LAST WEEK OF JULY, thus I'm requesting the opportunity to write a guest post or be interviewed on your website in the coming months. If you are interested in hosting a stop on my virtual tour, please let me know what you'd need from me and the date.
My website is located at YOUR WEB URL and, as always, I welcome you to visit my page in the future.
BOOK TITLE:
BOOK BLURB
BOOK SAMPLE Make it short and sweet.
Thank you for your time,
YOUR NAME
YOUR EMAIL
At least half of the people I contact usually reply that they'd love to have me. I guess the others ignore me.
 While you are waiting on people to reply, go ahead and begin writing guest posts. Remember, you want to attract readers, so write something interesting to them, not how to query an agent. Your posts should relate to your book and also include the back cover blurb, purchase links, links to your website, and a thank you to the host. I like to include a short sample of the book.
As you begin receiving replies, some will give you a date they want you to appear. Others will allow you to select your date. I like Thursdays because it's the day before payday for many and people aren't as distracted by the weekend yet so you get more views.
Send in your blog posts and interviews. Set up your chat dates. Send out your edited book for reviews…
Once your tour begins, be sure to promote each site you appear on the day you appear on it. Visit the site a few times during the day and reply to readers' comments. Don't be discouraged by the low comment number. When I have guest appear on my fiction blog, the entries average a few hundred hits, yet people rarely comment. When I look at my stats, I can see people are clicking the purchase links and links to the authors' pages, so that's the important thing.
Virtual tours are a lot of work whether you pay a service to set up your dates or you do it yourself, but they are excellent ways to stay in touch with your readers and meet new ones in your genre.
Be sure to check out Why It Might Be Your Fault That Your Blog Tour Sucked by Stacy-Deanne.
If you found this post helpful, please use the Share buttons to spread the word about it.
---
Don't have a copy of Become A Successful Author? What are you waiting for?Become A Successful Author is used in the "How To Write That Novel" course at Chicago State because it covers everything from branding to writing to editing to formatting and uploading electronic and print books to marketing and so much more. Your time is money. Look at all the time, thus money, you'll save by ending your search for answers: Purchase Become A Successful Author for only $4.99 (eBook) or$9.99(print) from: Amazon (US), Amazon (UK), Barnes & Noble