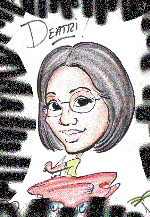 A few days ago, an author friend of mine asked if I could help pimp his website. The reasoning—little to no traffic because it was boring and in major need of jazzing up. He found a really snazzy looking template he wanted to use and needed guidance.
In one of my other lives (yes, I have several), I'm a web coordinator for the second largest employer in my state. I maintain high traffic websites, and I know a little about web optimization and all that techy web-stuff. I also maintain several websites of my own and have built websites for others. Enough about me, let's get back to adding BLING to his website.
I had to be honest with my friend. What good would I be if I weren't honest, right? Before he went through all of this work and shelled out dollars that could be used elsewhere, I had to ensure he understood the true reason why his website had little traffic—stale content.
He had his website/blog up for two years and maybe did three posts in all that time. And those posts looked more like Tweets than posts. When he had a new title come out, he'd place the new cover up, but beyond that, nodda-dang-thang.
I pointed out that my personal websites are nowhere near jazzed up, but are simple sites that have ever changing content that users return to see. Don't believe me, here are a few of my websites:
I asked him how many websites he visited to see the bling on the site as opposed to the content. He couldn't name one. Does this mean your website needs to be as simple as my websites? Of course not. I just want you to keep in mind that content is more important than BLING!
Back to the template my friend had chosen (a template is a premade design for websites you can customize for your needs).  The template was nice, but the service provider also had lots of bells and whistles he could add to the site. Bells and whistles are a good thing, when used in moderation. You don't want to add so much "stuff" to your website that it distracts from the most important part—your ever changing content that keeps your readers coming back for more between your releases and for new releases. My friend had music, things flying across the screen, videos, pop ups, animations… I couldn't even find the purchase links to his books. YIKES!
What to do, what to do? Before you pimp out your website, make sure you have your content ready. Below are not "pages" but types of content.
Author Information – Who are you—the author? Tell something interesting about yourself.  OK, so come of us are more interesting than others. What do you write? What is your writing known for? If you are writing non-fiction, what makes you qualified to write whatever it is you write? What are your literary accomplishments… I know a few authors who write under a pseudonym, and their About page is completely made up. I have a few pseudonyms, and I don't do an About page for those.
Contact – How will your readers reach you, and how will you stay in contact with your readers? Will you use some sort of contact form for your readers to email you? Will you have readers subscribe to a mailing list using the services such as Mail Chimp or Constant Contact. If you have a blog, will your user be able to sign up for the blog? Don't forget about social media. Make it easy for your reader to link to your Twitter, Facebook and other social media.
Purchase – How will your readers purchase your books? Where will you have links to purchase your books?  On every page, a dedicated page… Note: Make it easy for readers to find your purchase links.
Showcase – Will you have a page to showcase all of your titles? How will you organize this page? Will you have book blurbs, covers, videos, purchase links, reviews…
Repeat Offenders!—What will you do to keep your readers coming back for more? This is extremely important. You must keep the content on your website fresh. Most of us do not have a new book come out every month, so how do you keep your readers coming back for more between books? Are you going to have feeds to your Twitter, Facebook and or other social media? Will you be running contest? Are you going to blog? Will you have guest interviews or posts? Keep your content fresh if you want people to return.
Once you get your content together, figure out how you will organize it on the site and a way to continually draw readers to your site, you may now add the bling. There is nothing wrong with the bling, but don't ever allow it to overshadow your content.
So did I pimp my friend's website? Nah, once he stepped back and put things into perspective, he reorganized his website and added enough bells and whistles to jazz it up without turning it into a circus.
Here are a few other quick things about websites I'd like to touch on before I end this piece.
Try out several free website service providers such as Weebly, Wix, WordPress.org, WordPress.com, Blogger and Tumblr and see which one you are most comfortable using. Be careful, not all providers have full functionality on all internet platforms. Meaning, some people use browsers other than Internet Explorer. You want to read a wide audience.
Once you decide on who will host your website, purchase your domain name. Do not stick with the free one because it usually requires you having the companies name in the URL (web address). This is your business. Do not have someone else's name in your business's URL address.
Utilize the statistics functionality of your website. Keep track of where your traffic comes from and what links within your site are being clicked and when, then adjust accordingly.
Whew, I think that's enough for now. Now go pimp your website.
If you found this post helpful, please use the Share buttons to spread the word about it.
---
Don't have a copy of Become A Successful Author? What are you waiting for? Become A Successful Author will be used in the "How To Write That Novel" course at Chicago State because it covers everything from branding to writing to editing to formatting and uploading electronic and print books to marketing and so much more. Your time is money. Look at all the time, thus money, you'll save by ending your search for answers: Purchase Become A Successful Author for only $4.99 (eBook) or $9.99 (print) from: Amazon (US), Amazon (UK), Barnes & Noble