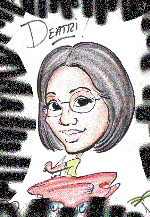 I know authors who refuse to attend reader events where they will not sell enough books at the event to cover the majority of their costs. I have always thought they were being too narrow in their definition of a successful event, and with the popularity of eBooks ever increasing, they should rethink what they expect to gain from reading events.
Let me tell you about a conference I began attending many, many years ago when I was merely a reader of romance and women's fiction, the Romance Slam Jam (RSJ). Back then there were no eReaders, no Facebook and no Amazon. I know that's hard for many of you to imagine, but there you have it.
The first time I attended the RSJ, I was intimidated. There I was, little ol' me, surrounded by authors whose books I couldn't get enough of. That up close and personal time with authors and others who enjoyed reading what I was addicted to was AWSOME. So awesome that in the eighteen years of the conference's history, I can count on one had the times I've missed it.
At the conference, there is a Mega Book Signing. Back in the day, readers would literally bring tote bags, roller bags, duffle bags of books with them that they had purchased over the years for the authors to sign. They would also bring books they'd purchased at the conference, but not nearly as many. Over the years as eBooks became more popular, the amount of books brought to the signing decreased drastically as did sells in the conference's bookstore. The Mega "BOOK" Signing has turned into more of a "Mega Signing" where attendees collect autographs and such for their scrap books.
I told you this story to point out two items.
The main purpose I, as a reader, attended this event was not to purchase books at the event. I can purchase books any day of the week. I attended the event to mix and mingle with authors whose work I enjoy year around and other readers such as myself.
The main purpose I, as an author, attended this event was not to sell books at the event. I want readers to purchase my books all year around, even when I'm not in front of them. I attended to build relationships and make MEMORIES with readers and network with my peers. This is a key element in growing that loyal base who will spread the word about your high quality novels without you having to ask. They know YOU, sign up for your opt-in mailing list and will tell readers about you. It goes deeper than them seeing you at a book signing table. It's a totally different level.
Attending in person events is very important for authors. But just like you shouldn't jump onto every type of social media out there, you shouldn't try to attend every reader event. Select the major event for your genre and attend every year or at least every other year. Get to know the attendees for that conference. You'll bump into many of the same people year after year. This is a good thing. This is how you build relationships and memories.
Many authors forget to look locally for events and readers to build relationships with. Use sites such as http://www.meetup.com to find writing groups and reader events in your area. Become a member of the literary community locally and let the readers get to know you so your popularity can grow.
So am I saying that when you attend a reader event, you shouldn't care if you don't sell any books? Of course not. I'm just saying that selling books at the event shouldn't be your only or main goal. With the increase in popularity of eBooks, it's time to rethink why you attend reader events and what you should expect from them.
On a side note. If you haven't read the article Are Amazon and Facebook Your Publishing End All And Be All? I suggest you do.
If you found this post helpful, please use the Share buttons to spread the word about it.
---
Don't have a copy of Become A Successful Author? What are you waiting for?Become A Successful Author is used in the "How To Write That Novel" course at Chicago State because it covers everything from branding to writing to editing to formatting and uploading electronic and print books to marketing and so much more. Your time is money. Look at all the time, thus money, you'll save by ending your search for answers: Purchase Become A Successful Author for only $4.99 (eBook) or$9.99(print) from: Amazon (US), Amazon (UK), Barnes & Noble