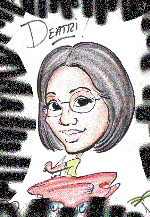 I began working in the publishing industry over a decade ago in editing and marketing departments of various publishers where I learned the business from the inside out. Whether you choose to go the traditional, small publishing and/or the self-publishing route, one of the keys to building a successful career is planning. I know you've heard a million times that publishing is a business and you should plan, but what does that mean?
To give you a better idea of how planning plays a key role in the success of your writing career, I'll show you an example using myself. Don't worry, I won't tell you every detail of my plan, but I'll give you enough so you can see the benefits of planning.
Full disclosure: I write under several names. The only names associated to Deatri King-Bey are Deatri (romance and women's fiction) and L. L. Reaper (suspense).  As Deatri my debut novel was released early 2006. A little over a year later, I left the author side of publishing as Deatri with four titles released. I was just getting a following as Deatri but decided to be a reader. Thus Deatri the author went into early retirement.
In 2009 I decided I wanted to learn about eBooks and ePublishing. So I signed onto a small ePublishing company as an editor and author to learn ePublishing. I didn't like it there. That company turned out to be a rip off, but I learned about the eBook process. My books were out a few months there. Needless to say, I got my rights back quickly (which isn't always easy) and took the knowledge I gained about eBook publishing with me.
Why did I give I give you so much background information, because it all went into my preparation to self-publish. So there I was. I had knowledge about ePublishing, traditional, independent and small press publishing and marketing. I had a stock of books that were submission and publish ready. My pen name L. L. Reaper didn't come into existence until mid-2011 so that was a non-issue.
When I went on what I thought was early retirement but turned into a three year hiatus back in 2007, MySpace was popular. When I decided I'd step back into the game in 2009, Facebook was quickly becoming king of social media.  So there you have it.
I hadn't had a real release since 2007 and I didn't have a web presence. I was starting over. I'm sure there were readers who remembered me, but they weren't looking for my titles any longer. They were probably like, "Where did that girl with the odd name go?" LOL.
The first order of business was to plot out a five year plan for my brand and individual books and set realistic goals. I took into account marketing, production costs (ie: editing, distribution, ISBN, copyright, cover design, printing…), timelines, schedules (including a writing schedule)… everything that goes into advancing my publishing career.
Again, even if you are going the non-self-publishing route, you should still plan. If you don't self-publish, the production costs are in the hands of the publisher, but you are the main one responsible for every other facet of your writing career.
Notice I said I was plotting a five year plan for my brand (Deatri King-Bey), not my publishing company or my imprint. Though imprints and publishing names are important to authors, in general, readers don't care. They don't care who the publishers of Nora Roberts, Beverly Jenkins, James Patterson or Steven King's books are. They buy the books because they enjoy the author's writing. Now don't get me wrong. Companies such as Harlequin have done an excellent job at training their reading base to pick up just about anything with the Harlequin brand on it. Good for them, but I encourage authors to self-publish and publish through legitimate publishing houses. You want readers to look for you by the author name (your brand), not by who produced the title because the producer can change several times over your career.
Let's talk about costs. Why is it important to know costs and include them in your plans?
Needing additional funds is one surprise we can all do without.
If you are self-publishing, you need to know how much money it will take to release your titles. This will help you set the price of the final product and help you gauge how many titles you can afford to release (eBook/print) in the coming year. So if you can afford three titles in the next twelve months, then you can plan your production, marketing, writing, editing schedule and cost and for three books.
Your plan will have estimates on costs. I choose to overestimate by 10% for each step. You will need to record actual costs of everything you spend on your titles so you can calculate your return on investment. For example, let's say your production, distribution and marketing costs for one of your titles was $1,000. A positive return on investment is everything you make after the $1,000 investment in your title has been earned. Now how long it takes you to make a positive return on your investment is a topic in itself.

Once you have actual costs, be sure to go back into your plans and make adjustments.
When I calculated the various costs, I did not estimate how much I'd take in for the first two years. Instead, I pretended that I'd make nothing. So if I didn't sell one book, I'd still be able to afford to release titles for two years. There was method to my madness. Stick with me and you'll understand in a bit. Please note. What works for me will not work for others. Make a plan that works for you.
So I'd done my research and knew which professionals I'd hire for what, and I got on their schedules and/or made note of how far in advance I'd need to contact them for each project.
I had a marketing plan for each title I would release and also one for my brand. In less than a year, I planned on releasing my first title, and I had no web presence and the small following I'd had from previous years had no idea I'd be coming back more terrifying than before.
The first phase of my plan was online presence. I set up a Facebook account, re-launched my website as a blog, attended reader events for my genre, started building an opt-in mailing list and networked with readers through my book club. By the way. I am an avid reader and always will be. I read an average of a novel a week. As a "reader" who also happens to be an author, I participate in a few groups on Facebook.
I have very limited time, so I chose Facebook as my main online hangout. Join as many networks that work for you, but I encourage you not to spread yourself too thin. You should spend more time writing than anything else.
Whatever spots you hang out in, be sure to actually participate. You'll get much more bang for your "time" buck than if you hop from place to place and the readers don't connect to you, thus ignore your posts.
So let's fast forward to Oct. 2010, when my first release was to come out. Along with always releasing a high quality product, I encourage authors to self-publish and publish through a legitimate publisher (traditional, independent, small press…) This is the fastest way to reach pockets of your target audience you may not have otherwise. Once you are happy with the size of your loyal reader base, you may decide to only self-publish.
I chose to only self-publish as Deatri. Do what works for you. Nothing is set in stone and you can always submit to publishing houses while you grow your base through self-publishing. I often tell authors that self-publishing has become the new "agent" of the industry.
Back to my brand and novel plans. I set measurable goals such as:
Number of titles released
Size of opt-in mailing list
Number of guest post on my blog
Number of guest appearances (online and in person)
Number of Facebook followers

On followers in general. I am not a big hound on quantity. I want quality. That is why I do not request friendships. That is why I do not add people to my mailing lists or groups.
Do you see anything missing? How about sells numbers? I barely promoted any of my releases for my first ten months and did not have sells goals for the first two years. Sounds crazy, but again, there was method to my madness.
Sells numbers go back to return on investment and the knowledge I have about readers' buying habits. If a reader picks up a book by an author that is new to them and they love the book, the reader has a tendency to go back and look for the author's previous titles.
As a new author, you don't have a back list (previous titles). Now what works for me, will not work for everyone. My five year brand plan has phases and my second phase was to become a master of self-publishing, to put what I had learned into practice and fix any holes in my system. This went for print and electronic titles. I released quality work and knew readers would go back and purchase the back list eventually.
Sounds crazy, but again, there was method to my madness. I'm in this for the long haul. Unlike many authors, I had a reserve of titles. Some had been released, others not. So I could take the ten months to get the lay of the land, experiment with different marketing techniques and make adjustments to my novel and brand plans as needed. I released high quality titles and allowed minimal promotion and word of mouth to make sells.
So did I have a sells goal? Yes.
By Oct. 2012, I wanted my royalty checks for eBook sells to be up to $2000 total per month. I went in knowing my first year of sells would be low, and I was okay with that. Again, there was method to my madness. Though I was wading through the self-publishing side of the world, I still released high quality products. With little promotion, I slowly built a reader base and a buzz started about this author named Deatri. About my brand.
July 2011 I planned to release the first book of a four part series. This would begin my next phase where I stepped up marketing a little. By stepping up marketing, I don't mean I joined a million social media groups and posted "buy my book" type post numerous times in the groups. Did I do some promotion in social media? Yes. I participate in a few groups and I have Facebook and Twitter accounts.
I had connected with readers before I started talking about my books. With the series, I literally allowed the readers to decide what order I wrote the series in. I also increased blog appearances (for various titles). Organized "Sale" events with other authors and used cross promotion. I continued increasing my opt-in mailing list and meeting with readers.  Sounds like a lot, but it doesn't take a lot of time when planned properly. And yes, you do need to keep track of how much time you spend on promoting/marketing/ non-writing activities and make adjustments where needed.
Part of my promotion budget is free reads. I know many of you think giving away titles is a sin, but publishing companies have been giving away books for years because it's one of those promotion tools that work. Before eBooks, many authors kept free reads on their websites. This is nothing new.
I'm not saying give away full length novels. But consider writing a few short stories and/or a novella to give away. Ensure they are properly edited and have great covers. Something your brand can be proud of give them away on your website and in any online store you can get them in to.
I use Smashwords for my free titles. I upload there and allow them to distribute. It took months, but Amazon and Barnes & Noble eventually matched the free price on the titles I'd submitted through Smashwords. Note that Amazon goes back and forth with having the titles free at times and .99 at others, but that's out of my control. I have three free reads (well, free most of the time. Dang blasted Amazon) that are a short story, compilation of short stories and a novella. In December 2011, my titles became free on Barnes & Noble. It took until May 2012 (almost a year) before they showed free on Amazon. I didn't think it would take that long. Lesson learned.
So let's look at the numbers. Do you think I'll be paid $2000 in Oct. 2012 for my eBook titles? I published my first eBook Oct. 3, 2010, so received my first royalty December 2010. Did minimal marketing until Jul. 2011, then stepped it up a little.
I'm rounding down to dollar amount. Rows in bold are the months I released a title (new, re-release of back list, and/or a free read). FYI: Currently, I sell my titles at Amazon and Barnes & Noble. I have other options, but did not want to pursue them in the first two years.
| | | |
| --- | --- | --- |
| | Amazon | Barnes & Noble |
| Oct. 2010 |   |   |
| Nov. | | |
| Dec. | $34 | $1 |
| Jan. 2011 | $40 | $9 |
| Feb. | $31 | $20 |
| Mar. | $39 | $11 |
| Apr. | $17 | $32 |
| May | $503 | $33 |
| Jun. | $396 | $33 |
| Jul. | $213 | $30 |
| Aug. | $154 | $28 |
| Sept. | $145 | $58 |
| Oct. | $108 | $42 |
| Nov. | $89 | $12 |
| Dec. | $88 | $15 |
| Jan. 2012 | $85 | $72 |
| Feb. | $128 | $298 |
| Mar. | $686 | $269 |
| Apr. | $966 | $241 |
| May | $562 | $239 |
| Jun. | $715 | $275 |
| Jul. | $1245 | $284 |
| Aug. | $1059 | $238 |
| Sept. | $2944 | $414 |
| Oct. | $2735 | $408 |
As you see, I met my two year ebook royalty goal. I love the saying: Work smarter, not harder. I created a plan of action and followed through with adjustments here and there as needed. I don't do a lot of promotion, but I do promote. My main focus is releasing a high quality product.
Wrap Up
I won't tell you how your brand and novel plans should look or how many titles are the key to success.  Here are a few items to remember when you write your plans.
Do your research and learn the publishing business. Besides being a downright excellent author, you need to become an expert in production, marketing and distribution. Especially where it pertains to your company so you can incorporate these elements into your plans. I chose to only release my ebooks on Amazon and Barnes & Noble because I wanted to learn the ins and outs of the two largest eBook sellers first then expand.
We all may have madness, but have method to your madness.
Do not cut corners. Always release high quality products (books) and indicate the cost into your plans. This method will cost you more up front, but in the end, it usually pays out nicely when accompanied with a good marketing plan.
Return on investment (ROI) is extremely important.  You are in the publishing game for the long haul. Use all three types of marketing: those that show results short, mid, and long term.  ROI also counts for your time. How much time are you spending on your various marketing campaigns? Are you getting your bang for your buck (ROI)? What about your editors? Are they qualified? Covers anyone…?
Know your product and your target audience.
Formats of your title(s), print run and distribution
Set sells and marketing goals
What markets will you sell in?
Create action plans to reach your sells and marketing goals.
How many titles will you release and when?
Where are the pockets of your target audience and how will you find/reach them?
How will you market yourself?
What makes your title(s) different than others in the genre? What sets your brand apart?
Will you write under one name or numerous? For example, many readers who enjoy traditional romance do not enjoy horror. So if you write both genres, you may want to have pen names by genre.
What are your expansion plans? How will you reach new markets and when should you begin expansion?
How will you maintain contact with your loyal reader base?
How will you grow your reader base?
What is your continuing education plan?
Do an Internet search on "book marketing plan" and I'm sure you'll find lots of examples. Initially, planning is time consuming, but in the long run it is time well spent.
Good luck
If you found this post helpful, please use the Share buttons to spread the word about it.
---
Don't have a copy of Become A Successful Author? What are you waiting for?Become A Successful Author will be used in the "How To Write That Novel" course at Chicago State because it covers everything from branding to writing to editing to formatting and uploading electronic and print books to marketing and so much more. Your time is money. Look at all the time, thus money, you'll save by ending your search for answers: Purchase Become A Successful Author for only $4.99 (eBook) or $9.99(print) from: Amazon (US), Amazon (UK), Barnes & Noble