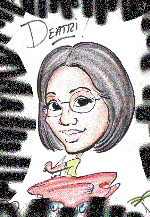 Many have asked me why I haven't hopped on the Kindle Select bandwagon. That's because the majority of my titles have nice Nook sells and I want my books to be available to my supporters. Granted, I know you just pull your books off other vendors for 90 days (minimum), so be sure to take that into consideration. You can always go back to selling your books everywhere. Anywhooo, I just don't find the program is good for me. I still received numerous questions about the program, so I decided to do a KDP Select Experiment so I can give you first-hand experience instead of just opinion.
For those of you who don't know, if you enroll your eBook in the Amazon KDP Select program, you say that you will sell and give away your eBook on Amazon.com only. You give them complete exclusivity. You can't even give the eBook away on your website. In exchange for your making your eBook exclusive to Amazon, you are allowed to give your book away for free for five days and your book is placed in Amazon's library for its Prime Members. When a Prime Member borrows the eBook, you are paid a certain amount.
When KDP Select started, the units downloaded for free counted toward your sales ranking when the book went back to regular price. The result, traditionally published books were being knocked out of "Best Sellers" list left and right. They lost visibility, thus sells, so I knew the publishing industry wouldn't let that last long. Publishers complained and now free downloads barely count towards paid download ranking. That's not the end of the story. You can still make money using the Amazon KDP Select program.
I think the Amazon KDP Select program is especially great for authors who don't have many sells outside of Amazon, have a series (I suggest putting the first book of the series), multiple books out or have older titles that aren't selling as well anymore. I think the program can give LOTS of exposure and the possibility of numerous new readers.
Onto the experiment.
I have decided to place two titles on the KDP Select program. Neither of these titles have sold a copy on Barnes & Noble in over a month, so though I'm still uncomfortable about being exclusive to Amazon for 90 days, I'm going to suck it up and do it. I just need to remember that this will increase the visibility of these titles and that's the whole point in making them available to the public.
Step One (May 28): I logged into Pubit and took my two titles (The Other Realm and Picture Perfect) off sell. I'll admit, that hurt. It's processing and I should probably wait until the process is over before enrolling into the KDP Select, but let's see what happens. I also updated my webpage to take off the Nook direct buy links.
Step Two (May 28): I logged into KDP and contemplated if I truly wanted to have my two titles exclusive on one site for 90 days. I'm not happy about this, but it's only 90 days—at least that's what I keep telling myself. It's not the 90 days that bothers me. It's the exclusivity. I don't like that for even a second. Get over it. I read through the FAQs, several times. I'm anal about this type of thing and you'd best believe I've spoken with authors who are in the program.  A few new items I learned from the FAQs:
KDP Select-enrolled titles are automatically renewed for another 90 days unless you opt not to automatically renew. So you know I will hop on over to the "Edit book details" page and uncheck the box next to "Automatically renew this book's enrollment in KDP Select."
You can un-publish your KDP Select-enrolled titles at any time during the term. So if it is really driving you crazy that your book is only available on Amazon, you can remove it from there also. BUT you still cannot sell it other places either for the 90 days. So your book will not be available anywhere until the 90 days is up.
If you get cold feet, you have 3 days to get out of the program. I think all contracts work like that, don't they? You get a 72 hour cooling off period.
There's a lot more information on the FAQs. Be sure to read them.
I enrolled my two titles into the KDP Select program.  I looked at my term date and have to leave my books exclusive until 25 August. If these two titles were the same genre, I wouldn't have done them at the same time, but since one is fantasy and the other women's fiction, the target audiences (though overlap at times) are different enough. Now I'm off to uncheck that auto-renew (into the program) feature. Okay, I'm back and didn't see where to not automatically enroll. I still have three days to get out of this program, so maybe that option will appear after that time. I'll be back.
I'm back (June 5). Did you miss me? I am now able to uncheck the auto-renew.
Step Three (May 28): I'm not in a hurry to select my free days.  I know that I will do the free reads promo in three sets. Two Wednesday/Thursday sets and one Thursday set. I choose to do it this way because I've been told numerous times that the free downloads increase your sales ranking. No one knows how much. So let's see if how much of a bump my numbers get just before the weekend. I'll do the free day promos three weeks in a row because I'm trying to get it over with. Yep. I said it. This is an experiment and I just don't feel like spreading the five free days spread out and having to report on each one. So I'll group them and report on each group. If you are serious about the KDP Select program, I think it would be best to spread your five free days out.
I'll be on vacation the second half of June, so I reckon I'll start my free day promos then. There's also another reason I'm choosing June to do the free promos. The 4th of July is vacation time. Lots of summer reading will be going on so this is a good time to have my books out there. Here are the dates I'll schedule the free days for:
June 13, 14
June 20, 21
June 28 (FYI: I ended up cancelling this date for both)
Originally when the KDP select program started, it was said that the free downloads would count toward your rankings, but from what I've seen, that doesn't seem to be true. I'll let you know for sure at the conclusion of this experiment.
First I need to create a plan on how to promote my free days. My Facebook, Twitter, reading groups I belong to and mailing lists are givens, but there are other online avenues that promote free reads. I hear they are hit and miss. Let's see what happens.
Here's a tool that submits your promo information for your free days to various websites:
http://authormarketingclub.com/members/submit-your-book/
Step Four (May 28): My followers who wanted the titles I've entered into the KDP Select program have most likely already purchased them, so it's time to maximize on the exposure and find new pockets of my target audience. Sounds like a great time to set up a blog tour. I only have the one fantasy book, which I entered in the KDP Select program, and in all honesty have neglected it. Thus I need to find places to be a guest blogger or be interviewed. I'd do my women's fiction title also, but I just don't have time to do it with all the other things I have going on in my life.
(June 4) I did some research into the sci-fi/fantasy/paranormal romance world and have sent blog appearance request to nineteen to appear on their blogs near the end of June. They've probably never heard of me before but oh well. Nothing beats a failure but a try.
(June 4) I've already heard from several of the authors I emailed this morning and have four guest posts lined up (fantasy) and one blog talk radio. Cool. I did receive an odd email from one of the authors. I've been in the business a long time, and I know some authors can be a tad bit snobbish, but such is life. One of the replies to my request was from an author who said something on the lines of, "I rarely allow guests authors on my website, and when I do, they are my peers." Did that sound snooty to you? I've been turned down many times for interviews and such. It's no big deal, but that seemed like the author's nose was high in the air and stick stuck way up her behind. Authors, remember tone is important when responding to people. For one thing, you should always be polite because it's the right thing to do, and also because you never know who you're speaking with, especially online.
(June 13-14) I forgot all about my books being free until I checked my KDP stats this morning, which I do every morning. Only 6 a.m. and already a few hundred downloads for both books. Cool. My next step was to go onto Facebook and announce the free books in the reading groups I belong to and also on my author pages. By the way, I ended up with a seven spot blog tour for The Other Realm. Not bad, huh?
Next I'm off to see what locations ran my free tour. I know some places must have since I already have so many downloads and it's early in the day.
I did a search on Twitter for "The Other Realm by Deatri" and BAM, @FreeEbooksDaily had indeed posted it. Thank you, Mom, for giving me an uncommon name. Next I searched for "Picture Perfect by Deatri" and BAM, @sylviahubbard1 had Tweeted it. It's still early so I'll check again later.
Next I moved onto Google and did a search of "The Other Realm by Deatri" and BAM, I saw both books on http://ereadernewstoday.com/free-kindle-books-17-free-books-for-6-13-12/6714313/
The Other Realm also made it to: http://www.facebook.com/kindledailydeal
Picture Perfect: Kindle Daily Deal
http://thekindledailydeal.com/bargain_preview.cfm?bargain_id=804
Wednesday 13 June I got 4262 downloads on Picture Perfect and 2536 downloads on The Other Realm.During the course of the day, The Other Realm ended at #4 on the free downloads for fantasy. Picture Perfect ended up #56 in free downloads overall.
(June 15) I was anxious to see what the ranking of the titles would be after the free promotion. I had been told that Amazon counts the free downloads towards your actual sales ranking. Not one for one, but they do help substantially. When I would ask for what substantially or a lot meant (I'm a numbers person. Those I understand), I could never get what they meant. Before this experiment started, both of my titles were over a million in the sells ranking. If you sell, one or two books, your ranking can go to around 150,000 range, so let's see how "substantially" the free downloads worked on my rankings.
Picture Perfect finished with 8112 free downloads.
And the ranking this morning is: Amazon Best Sellers Rank: #69,829
The Other Realm finished with 3984 free downloads
And the ranking this morning is Amazon Best Sellers Rank: #364,856
Let's put this into perspective. The Picture Perfect ranking is okay. It would translate to I'd sold a few books in the past couple of days. The Other Realm ranking looks as if I sold a book or two a few days ago.
This is very good information to know because I've read and been told numerous times by those in the program to run your free days Thursdays so your rankings will be higher come Friday when people purchase.  Keep it in perspective folks. From speaking with others who have participated in this program, and looking at the ranking on Amazon, I did extremely well on the download volumes. So well that Picture Perfect was the 56th most downloaded book of ALL of Amazon's free titles, and though The Other Realm didn't break the top 100 list for most downloaded free books on Amazon, it did get to 106 of the thousands of free books offered on Amazon. So you'd need a heck of a lot of free downloads to really increase your sales rank. Side note: Here is an excellent article about Amazon Sales Ranking. Please note that the ratio of Frees that count toward your sales ranking is not 10 to 1. It's not even 1000 to 1.  Meaning for every 1000 free downloads that would count as 1 sell in the rankings.
You may now be thinking, what's the point in giving away 12,000 books. Exposure. If even 10% of these people read the books, that's up to 1200 people who have been exposed to my work who had probably never heard of me or considered reading my work. Hopefully, they will enjoy the titles and go back to purchase more. This is why the KDP Select program works better for people with a few titles released and those with a series (I suggest putting the first installment of the series in the program).
But more importantly, and an item I haven't seen discussed in any of the articles I've read about the KDP Select program, is the Customers Who Bought This Item Also Bought element of product pages. Over the years, I've had readers contact me who said they'd never heard of me but discovered my books through that Customers Who Bought This Item Also Bought.
Picture Perfect had a total of 8112 downloads. That means 8112 Amazon customers' book purchases are now linked to Picture Perfect. So on some of the product pages of books they have purchase, Picture Perfect will show in the Customers Who Bought This Item Also Bought section. That is a heck of a lot of free advertising and a major strength of this program that I believe many overlook. I believe the Customers Who Bought section is one of the main strengths of the KDP Select program.
I need to write a few articles and submit the interviews for the mini blog tour I set up for The Other Realm. I've been neglecting this poor little title so long. Shame on me. Optimally, I would have set up a tour for Picture Perfect also during my free promo period, but I have a new romance coming out next month and will be touring then so just don't have the time to promote both of these titles as I should. Be sure to always take into consideration your time constraints.
By the way, when I announced the free days in social media groups I belong to, I asked people to like the product page. People rarely hit that like button on anyone's page, so I figured it couldn't hurt to ask. I ended up with 20 additional likes on both pages.
(June 16) I've had a few sells of both titles which I shall credit to the KDP Select program since I hadn't had sells for these titles in over a month. FYI: It looks like borrows count as sells in the ranking.
As of this morning:
Picture Perfect (Women's Fiction) –  3 sells and 1 borrow, Amazon ranking: #33,650
The Other Realm (Fantasy Romance) – 3 sells, 3 borrows, Amazon ranking: #39, 586
(June 17) I haven't been promoting either title but still received a few sells. Since the sales rankings for the books aren't high enough to be placed on any list, I think the sells stem from the Customers Who Bought This Item Also Bought section of the product page of Amazon.
Picture Perfect (Women's Fiction) –  5 sells and 2 borrows, Amazon ranking: #36,365
The Other Realm (Fantasy Romance) – 7 sells, 4 borrows, Amazon ranking: #29,650
I'm curious how people find out a title is available to borrow unless they happen upon it while browsing Amazon. I'll have to ask someone in the program I guess.
(June 18)
Picture Perfect 7 sells, 3 borrows Amazon ranking: #33,041,
The Other Realm 8 sells, 4 borrows, Amazon ranking:  #43,921
Don't worry, I'm done giving the daily report. I think the borrows and sells will go down between free days because I'm not promoting the books. I suggest you promote the books for additional sells so you'll, hopefully, get on some of the best seller list on Amazon to be more visible
June 19 Evening
The Other Realm #109,392 Paid in Kindle Store
Picture Perfect # #65,904 Paid in Kindle Store
August: Okay, I think you get the picture of how the KDP Select program works. The virtual tour of The Other Realm that I went on started near the end of June and went nicely, but by the time I'd started the tour, the bump in ranking I'd had was gone. So take that into consideration when you schedule your free days.
In conclusion, I think the KDP Select program is a good marketing option to boost your sells of older titles. If you have a new title, I do not suggest you place it into this program. FIRST, get the majority of the sells from the eBook, then enter the program so those who are downloading it for free wouldn't have bought it anyway. You want to use this program to gain new readers, which is also why you want to have more than one eBook out (preferably in the same genre) when you enter this program.
Has this experience changed me into a KDP Select person. Nope. Don't get me wrong. The titles I entered have received at least 20 sells each since I ran those free days and it is a way to get your work out there to people who may not know about your books. Once readers begin reading those free downloads, I'm sure many will come back for more. This program just not for me, that doesn't mean it's not just right for you.
If you found this post helpful, please use the Share buttons to spread the word about it.
---
Don't have a copy of Become A Successful Author? What are you waiting for? Become A Successful Author will be used in the "How To Write That Novel" course at Chicago State because it covers everything from branding to writing to editing to formatting and uploading electronic and print books to marketing and so much more. Your time is money. Look at all the time, thus money, you'll save by ending your search for answers: Purchase Become A Successful Author for only $4.99 (eBook) or $9.99 (print) from: Amazon (US), Amazon (UK), Barnes & Noble