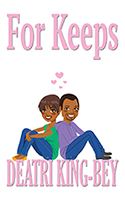 I have a love/hate relationship with Amazon, as many authors do. But I have got to give them their props. They promote the products they distribute better than any other distributor out there. Now they've added the ability for self-published authors to set up their eTitles for pre-order. Bravo!
I must admit, I do not like pre-ordering books because I know I won't keep up with if I actually received them but a lot of readers love to do pre-orders. Soooo, with this new functionality, I decided to give it a try so I could tell you about it. They began this option two weeks before my new title was released, so my title was only on pre-order a week, but I learned a lot from that week.
Setting up for pre-order is very easy. Go into your Amazon KDP account and upload your manuscript as usual and select the option for pre-order. A week before your release date, you must upload the FINAL version of your manuscript. If you do not upload the final version, you will not be able to place another title on pre-order for a year. Once you have uploaded your final version, you will not be able to change the file the last week before the go-live date.
Great news. Your title DOES NOT have to be enrolled in KDP Select in order to set it on pre-order. KDP Select is the program where you give Amazon exclusive distribution rights to your title for ninety days and in exchange they allow you to give the book away a few days and they add it to their free library. You are paid for the free downloads from their library.
So a little over a week before my title went live, it was available for pre-order. The night before the book was available for everyone, the people who'd pre-ordered it received their notice that they could download the book. I had a few readers contact me saying they'd read the book and two even posted a review the morning it went live. Having reviews from users with the "Verified Purchase" is a good thing.
I wondered how they'd do the sales rank. I had hopedthe titles that were sold during pre-order wouldn't count until the title went live, but that was not the case. They count during pre-order then they also give your ranking a little boost when it becomes available. I don't know the algorithm they use to calculate how much and I'm sure they'll be changing it often.
From the KDP Reports Dashboard, you'll see the Pre-Orders option that will give you the number of pre-orders your title has.
Back to ranking. You need to understand how pre-orders will affect your ranking. My last seven titles hit the top twenty in their first day of release. In my category, that's around fifty-sixty copies. By the second day, the new title is usually in or close to the top ten. Then my sales usually shoot off and stay pretty good a few weeks. I promote initially, but don't do the continual promotion that I know I should, but that's a different post.
I discovered that getting into the top twenty and even better yet the top ten your first few days is crucial. The higher your rank, the more Amazon pushes it. That was why I wanted to know how the pre-sale copies would affect the first day sales. For me, if my new title can get into the top twenty the first day, that title will do good.
The night before my title was available, the sales rank was 103,000. According to the report, there were twenty-seven pre-orders. The morning it was live, without any additional sales yet, it was 42,000. So there was a bump up in ranks as a result of the pre-orders.
During the course of the day, thirty-eight additional units of the book sold. I checked at 9 p.m. before I went to bed. So my first day sales were 27 (pre-order) + 38 (first day sales), which, when combined, is in the range of what I usually sell on the first day. So what do you think my Amazon ranking was? Did it make the top twenty as usual?

As you see, it did not. I have a base of around sixty readers who usually buy my new title on the first day. This puts my title in the top twenty quickly for my category, which did not happen because the pre-orders didn't count as full units. This ranking isn't bad, but I've noticed a huge different between being in the top twenty on the first day.
Here are the rankings from 6 p.m. the day after it went live.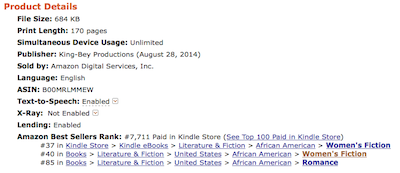 The title continued to climb the charts, but not enough for my liking. That loss of twenty-seven sells makes a big difference. So for me, I will not be doing pre-orders again anytime soon, because I don't have a large enough base that pre-orders will not hurt my ranking. I need that big bang on the first day. You will need to do what works for you.
If you found this post helpful, please use the Share buttons to spread the word about it.
---
Don't have a copy of Become A Successful Author? What are you waiting for?Become A Successful Author is used in the "How To Write That Novel" course at Chicago State because it covers everything from branding to writing to editing to formatting and uploading electronic and print books to marketing and so much more. Your time is money. Look at all the time, thus money, you'll save by ending your search for answers: Purchase Become A Successful Author for only $4.99 (eBook) or $8.99 (print) from: Amazon (US), Amazon (UK), Barnes & Noble