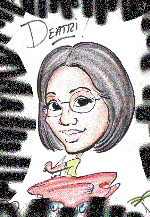 Last month I attended two writer/reader events that had workshops and panel discussions pertaining to the publishing industry. When I go to these type of events, I'm usually very selective on which discussions I attend, but this time I decided to give others a try. Many of the presenters were very good, but others… All I can say is: Authors beware. Misinformation abounds!
I literally wanted to jump out of my seat numerous times, but I was good. I remained calm and kept my mouth shut. Below are just a few of the things I wanted to set the record straight on.
Copyright Misinformation: You have to copyright your book the moment you start writing it for protection.
Copyright Correction:
Let's think this through. You haven't even written it yet and you can't copyright a concept, so that doesn't make sense. The moment you write/type your book, you have copyright protection. You file the work with the copyright office so that if someone infringes on your copyright, you can sue them. NOTE: Whoever files first DOES NOT necessarily get the copyright of the piece of work. Remember, the moment you've written your piece, YOU own the copyright. So if someone else gets your manuscript and submits the copyright, then you can still file a copyright and take them to court. So make your life easier and file your copyright. Visit the official
copyright office website
for information.
ISBN Misinformation: When you purchase an ISBN from a vendor such as Lightning Source or Create Space, it's like those companies owning your social security number. They are listed as the real publisher of the piece. Therefore, they own the copyright to your book and can do whatever with it they please.
ISBN Correction: Not all vendors work the same, but many of them give options on assigning ISBN. With the "FREE" option, the ISBN assigned usually belongs to the vendor, for example Create Space, and thus Create Space would be listed as the publisher. BUT they do not own your copyright or get additional royalties.
Personally, I do not like this option because I want to brand my company. It's the same as getting those free websites with WordPress or Wix, then their name is part your website address. I don't want someone else listed as publisher of a book I published.
Another option some of the vendors offer is you purchase an ISBN from them that list your company as the publisher. This is usually cheaper than buying ISBNs directly from
Bowker
. This is the option that people think gives your rights away and removes you as publisher. No, you are not giving them your social security number to do what they want. A more accurate analogy would be renting the ISBN. Your company is listed as the publisher as long as you fulfill the obligations of the rental agreement. The vendors have brokered deals with Bowker to make this possible.
The obligation is usually you must create/sell the book using the vendor's business. So if you purchased the $10 ISBN from CreateSpace, you are listed as the publisher and must use CreateSpace to publish and sell your book. You can also sell from other vendors, but the creation must be in CreateSpace. Let's say you don't like CreateSpace for whatever reason. You can stop using CreateSpace, but that is also the end of your rental agreement for that ISBN. You can not take the ISBN with you to Lightning Source and publish the book using the ISBN you rented from CreateSpace. You'll need a new ISBN.
The final option vendors offer is a high priced ISBN that you can purchase from them that you can take with your if you leave their company. DO NOT DO THIS. They are just selling you an ISBN from Bowker. Go to
Bowker
yourself and purchase your ISBNs. If you purchase in bulk, they are cheaper.
Traditional Publishing Misinformation: You'll make more money from self-publishing, so there is no need to even try to go the traditional publishing route.
Traditional Publishing Correction: This one drove me CRAZY. I make a lot more self-publishing than traditionally publishing, but I still tell authors who don't already have a nice sized reader base to try to find a traditional publisher also. Why? Because traditional publishing gets your book to a sizable amount of readers in your target audience who wouldn't have tried your titles otherwise. This is the FASTEST way to grow your loyal reader base.
Let's say you write romance and Harlequin offers you a book deal for one of their lines. Each of their lines has thousands of readers who purchase every book within the line they enjoy. Play it smart. Write a few novels for the traditional publisher. Use them to build your reader base (while you're still self-publishing). Once you are happy with the size of your reader base, don't continue with the traditional publisher.
I think this one annoyed me so much because it was an author who traditionally published first, then self-published. She also gave examples of other authors who traditionally published first, then self-published. All the while, saying, people shouldn't go the traditional route. Don't get me wrong, there are authors out there who do great with only self-publishing, but in general, the fastest way to grow your large loyal reader base is through traditional publishing.
Lesson Learned: Do your research. I'm not saying ignore information people tell you, but you must also do your own research on whatever the topic is. Even if it's me saying it. Believe it or not, I've been wrong a time or two. Break out those critical thinking skills and think through what they are telling you. Is the logic they are using making sense or just sounding good.
If you found this post helpful, please use the Share buttons to spread the word about it.
---
Don't have a copy of Become A Successful Author? What are you waiting for?Become A Successful Author is used in the "How To Write That Novel" course at Chicago State because it covers everything from branding to writing to editing to formatting and uploading electronic and print books to marketing and so much more. Your time is money. Look at all the time, thus money, you'll save by ending your search for answers: Purchase Become A Successful Author for only $4.99 (eBook) or$9.99(print) from: Amazon (US), Amazon (UK), Barnes & Noble