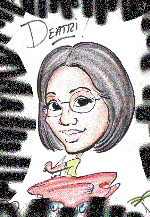 Many authors believe they are making it easy for readers to purchase their books, when in reality, they aren't.  When I'm on social media sites I often see promos from authors on the lines of "1-Click" for a great read and there's a handy-dandy link to the Amazon product page. Great job.
This is where most authors stop. And I feel confident saying "most" because I belong to a lot of reader groups, and the overwhelming majority of authors only promote the Amazon product page link for their books. I was in that crew. Shame on me.
I'm also an avid reader who owns a Nook Color. When I see a book that I like, I get the pertinent information from the author's promo (which usually leads to Amazon), then I hop my happy little electronic butt on to Barns & Noble and download the book onto my Nook if it is available. I never gave it a second thought. Not until one of my readers complained that my books weren't available on Nook.
I was completely confused. My eBooks are on Kindle and Nook. This reader had been introduced to my writing through my print editions and now followed me on Facebook so saw my announcements when eBooks became available. After a short discussion, I learned that when she sees a link on social media for a book, if it is for a Kindle book, she moves on because she has a Nook. Hmmmm, this got me to thinking.
I conducted an experiment. The month of December when I promoted my eBooks, I gave the link for the Amazon and the Barnes & Noble product pages, and guess what? My Nook sells took off. I had been averaging $30 a month in Nook sells. My December sells were almost $300. Needless to say, I was floored. Now in all fairness, I place the majority of my titles on sale the month of December so the number of sells usually increases for that month, but I drop the price of the books $2-4 to $1.99 so I make a lot less per sell. Also, the previous December, I made $35.
Your title may be available from several sites. Find the audience for each of those sites and let them know your book is there. Make it easy for readers to buy your book.
Let's talk about another trend I've been seeing that as a reader I find annoying. Authors who only have a Facebook, Twitter and/or some other social media account. As a reader, I do not want to have to play detective to purchase your book. I saw this really nice cover the other day on Facebook. I was like, "Okay, where's the rest of the information, such as where to buy it." I had extra time so went to the author's Facebook page and again saw the cover splattered several times on this author's wall. She must have placed her cover on several of her friends that we share. Anywhooo, still no information on how to buy this book. So instead of going to Barnes & Noble, I decided to read the author's information tab in hopes she had a link to her website where I could view all of her books and maybe learn a little something about her. I get there and there was no website. Okay, soooooo, I head on over to Barnes & Noble, and the book isn't there. Next I head onto Amazon and wha'la, the book was available in print.
Many newer authors are starting to use social media such as Facebook to replace having a website. In my opinion, this is a big, Big, BIG mistake. Your website is the showroom for your titles. From your webpage, I should be able to purchase your book, join your mailing list, learn a little something about you, follow your career… I have a friend who posts things to her Facebook page, then gets upset when people don't know what she posted. Many people do not read though their newsfeed daily. Same concept applies to other social medial.
While we are on the subject of webpages, the concept of "make it easy for readers to buy your book" still applies. I visited a few authors' websites over the past month and was amazed at how many times I was tempted to hire a detective to help find the purchase links. You don't need to place a huge red button that says "Click Here To Buy My Books," but don't hide the links. If possible, have a purchase or access to the purchase links on every page of your site.
In the end, remember, make it easy for readers to buy your book.
Deatri King-Bey
Please help your fellow authors by sharing posts you find helpful.
---
Don't have a copy of Become A Successful Author? What are you waiting for? Become A Successful Author will be used in the "How To Write That Novel" course at Chicago State because it covers everything from branding to writing to editing to formatting and uploading electronic and print books to marketing and so much more. Your time is money. Look at all the time, thus money, you'll save by ending your search for answers: Purchase Become A Successful Author (eBook) for only $4.99 from: Amazon (US), Amazon (UK), Barnes & Noble  or print copies for only $7.99 by using the Contact page of this website and tell Dee know how many copies you'd like and shipping address. She'll email the ordering information.