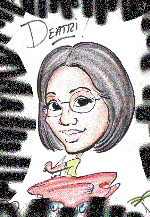 In today's electronic age, a strong web presence is one of the best tools in your arsenal to become a successful author. That's a no brainer, right? Not necessarily. Many of my fellow authors are suffering a slow painful death by social media.
Instead of just telling you to do this and not that in order to avoid death by social media, I'm coming at this from a different angle. I'm about to give you a little history in hopes that if you have the entire picture, you'll understand why we must make adjustments for the time we live in. So stick in there with me to the end.
Let's take a short trip back in time to a decade ago. Personal Data Assistants (PDAs) were popular, especially the PalmPilot. Smart phones were around, but using their limited functionality could be quite expensive. Internet access in households was increasing exponentially, but the cost of using that access caused many to limit their usage. Online personal journals (blogs) and social media were in their infancy and would have to grow up fast. People received most of their news and entertainment from traditional routes such as newspapers, television and radio. For this reason, online marketing was used, but nowhere near the extent that it is today. This may be hard for some of you to believe, but a decade ago, Amazon.com made its first profit. The world was different back then. We were at the onset of the first major boom of the electronic age. Back in the day, authors were encouraged to capitalize on this new age by harvesting the emails of anyone who sent them an email for their own email promotions list.
In 2003 My Space came along, then Facebook (2004), Twitter (2006) and a host of other social media and blog sites.  Along with joining social media sites, everyday users began setting up personal email accounts. With the increase in personal email accounts and Internet usage came the increase of online marketing. This was a boom for the marketing industry because it's so much less expensive to send blast emails than print ads or mailings.  Everyday users began seeing more and more advertisement emails they didn't ask for, but most found these unsolicited emails manageable.
Then it happened. June 2007 the first iPhone was released and need I say more? Yes, I do (SMILE). The cost of being online fell drastically and accessibility to email, social media, news… was at your fingertips 24/7. Though iPhones are the leader in smart phones, other excellent brands have inundated the market so just about everyone can be online at all times.
Wow, what a difference a decade makes.
Unfortunately, many businesses and authors (publishing is a business) are still promoting as if they are at the onset of the first major boom of the electronic age. Remember when mailboxes were filled with junk mail and we'd all complain? Well this has happened twenty fold in the electronic world (remember how inexpensive it is to send mass emails compared to snail mail). Users, readers are now inundated with tons of junk email that is often referred to as spam.
Hold up a second. Did I just call the unsolicited email you sent to my personal account junk mail? I plead the fifth. Anywhoooo, let's look at social media. Many of these sites allow you to add members to mailing list and groups without their permission. I know you may enjoy people harvesting your email and then filling your account with unsolicited promotions and group posts (advertisements), but with the plethora of these types of promotions going to individual's email accounts, the everyday user is starting to revolt and tuning out people who add them to groups, send them unsolicited emails and other such behaviors. You do not want to become part of the noise. You do not want to die by social media.
So what's the solution? Be patient and build loyal, opt-in communities and mailing lists. It will take more time, but your return on investment will be much greater and will increase the credibility of your brand. You don't want to be known as one of those authors who swamp people's emails with their advertisements.
When someone sends you an email, send back a request for them to join your mailing list. Instead of adding individuals to your groups, send invitations.  Don't over promote (finding that happy medium is not easy, but you can do it). Allow the readers to get to know you for more than a book pusher. You want readers looking forward to your emails and posts, not to think of them as intrusions in their lives.
Just say no to death by social media.
---
Don't have a copy of Become A Successful Author? What are you waiting for? Become A Successful Author covers everything from branding to writing to editing to formatting and uploading electronic and print books to marketing and so much more. Your time is money. Look at all the time, thus money, you'll save by ending your search for answers: Purchase Become A Successful Author (eBook) for only $4.99 from: Amazon (US), Amazon (UK), Barnes & Noble